Insecure Writers Want to Know
Happy New Year, dear IWSG friends! I wish you all success in 2023.
As for that word that sums up what I need to work on in 2023, I'm afraid to say it. Is anyone looking? [Eyes dart left, then right.]
Self-Publishing. [In a whisper.]
Okay, so it's a hyphenated word. But I've said it. Now I need to make it come true. [Starts to tremble.]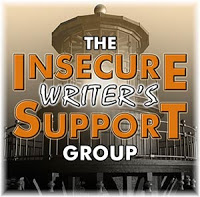 Why am I so terrified to publish? I've been published in magazines and anthologies before. But this time it will be all me.
I know what I don't know. I know I need assistance with this self-publishing thing. I know I'm tech challenged and get frustrated easily. I plan to pay for assistance and pray I hire the right people.
But I also know what is troubling me the most. It's the marketing. It's the reviews. It's finding out what others think of my stories, my college memoir. It's trying to make a success of this publishing thing; finding readers interested in my topics and themes.
Publishing is a scary endeavor. Only the brave try it. And live with the results. And then try again. I so admire anyone who self-publishes and then publishes again. More power to you all!
I need to publish this college memoir. My first full-length book. I need to move on to my next writing adventure: collections of middle grade short stories. And then start the self-publishing process all over again. Nerves and all!
Last month I spoke about my college memoir and its themes. I said I wished to "show those who have dreams that dreams can come true if only one is determined enough to see it through. Hard work can make things happen. We shouldn't be afraid of inferiority or opportunity."
It worked for college. No. It wasn't easy. Still, I need to try it for publishing my stories. I need to see this through.
Do you have any recommendations for:
book cover artists
formatting specialists [e-book and hard copy]
information on how to purchase ISBN's
how to send out Advanced reader copies for jacket quotes.
Did I miss anything? I'd rather not just surf the internet to find assistants for these jobs. I'd rather have recommendations from those I trust. And I trust you, dear IWSG friends.
Please feel free to offer any comment on my intentions with self-publishing this college memoir or my middle grade short story series. Any insight would be greatly appreciated. Thank you!
Now I'm off to see how you've tackled this month's question. I am extremely thankful for all of you for being my sounding board and advisors on this scary writing and publishing journey.
Thanks for stopping by my little spot on the web. Please come again!
This post was written for the Insecure Writer's Support Group. I'd like to thank our co-hosts for January: Jemima Pett, Debs Carey, Kim Lajevardi, Sarah Foster, Natalie Aguirre, and T. Powell Coltrin! Please visit them if you can.
Our group posts on the first Wednesday of every month. To join us, or learn more about the group, click HERE.