Happy New Year, dear friends! I wish you a year full of adventures in 2023.
The last part of our fall trip to northwest Pennsylvania was visiting the Leonard Harrison State Park. And we missed peak leaf season again! Leonard Harrison is a free park and part of the Pine Creek gorge, "The Grand Canyon of Pennsylvania" that I spoke about in my November 2021 post. This trip, however, we visited only the east rim of the canyon.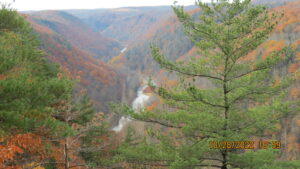 After checking out the views from the top of the canyon, which are still glorious—even without the leaves—I decided to take the Turkey Path Trail to the bottom of the canyon. Two miles round trip. This is considered short for us. An easy hike! But then you add the terrain.
Turkey Path is narrow, made of mostly rocks and roots and slant. The trail slanted toward the edge of the switchback in places. There are some new wooden steps in spots. One mile down. This is the pleasant part. Watching the silver threads of a waterfall weave down and spread out along rock strata. This is the part where you take photos and chat with hikers coming up from the bottom. These hikers are happy for an excuse to stop and find a breath to answer your question about how much farther you still need to go to reach Pine Creek. You laugh and smile … and wonder why the return hikers are not smiling with you.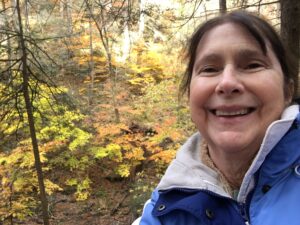 Any reservation is forgotten once I reach the creek. The sun shines in a brilliant sky as hawks ride the thermals. Pine Creek sparkles on its journey southward. I'm filled with warmth as I rest on a streamside bench taking in the scenery. Rest, always a good idea. And a small pack of fruit chews for a snack and some water. The fruit chews are made with real fruit sugars for energy.  
New wooden steps greet me as I begin the arduous climb back to the top of the canyon. It's only a mile according to the map. But it's the reason why no one smiles on the upward journey. We're too busy remembering to breathe, to watch every step so we don't fall from the switchbacks on the climb up.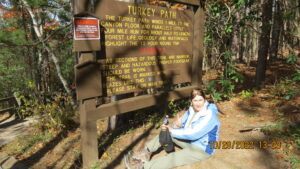 I realize I've said this before but bringing lots of water is essential on any hike, regardless of the season or temperature. And energy-producing small snacks are a plus. Although the signpost said Turkey Path was an hour and a half journey, it took me at least two hours to complete. Always add time to any estimations made in brochures or trail maps—especially if you are hiking with kids. We are each different in our hiking abilities. Take your time. Never rush a hike. Enjoy the scenery. After all, that's what you came for. To enjoy nature and your surroundings. Don't strain your body into complete exhaustion. Finish the hike on your terms, not some guidepost's.
Thanks so much for reading Camping with Five Kids. Please stop by again! Till then, enjoy life's adventures.