Blogging through Adventures in Writing has brought me all of you, true relationships and even true friends. For that, I am forever grateful. I can't thank you enough for sharing all your experience and knowledge in the writing field with me. Your generosity has helped me move forward on many writing projects. Seriously, thank you!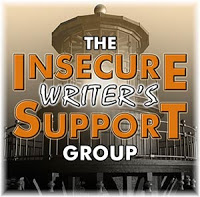 That being said, I realize how small—incredibly small really!—my social platform is.
Writers need to build their online platforms. This is what I'm hoping to achieve through my connections with you, fellow writers, at Insecure Writer's Support Group. I try to help my friends in the blogosphere by joining or following their blogs and connecting with them on facebook, Goodreads, and twitter.
May I please request that if you have not "followed" my blog, please do so now. And if you could, please connect with me on my facebook author page, my Goodreads page, and my twitter page @VictoriaMLees. Thank you so much. If I haven't connected with you on social media, please feel free to give me the links in the comments section of my Adventures in Writing blog.
But what about an e-mail list? Do you have one?
How did you start your e-mail list?
Can you only solicit an e-mail list through a website? Can I do it from my Adventures in Writing blog?
Do you need to solicit e-mail addresses separately for list purposes and offer a free…what? Possibly a writing tips sheet or a short story piece in order to get the e-mail addresses?
Could the document you're giving away be a PDF document or does it need to be an e-book?
Do I need to tell readers that I'm soliciting e-mail addresses for a list?
Do I need to offer a newsletter to the e-mail list at regular intervals?
What do you write about in any newsletter you might offer to your e-mail list?
How difficult are the e-mail marketing services to use? Which one do you use?
I'd love to hear any comments you may have on the topic of an e-mail list and how you do it. I would truly appreciate it.
I'll be interested to see how you've tackled this month's question. It's great having a topic to share our thoughts on each month. As I've said, I am extremely thankful for all of you for being my sounding board and advisors in this writing and publishing journey.
Thanks so much for visiting! Remember, please follow Adventures in Writing if you haven't already and connect with me online. Leave your blog link in your comment so I can be sure to do the same for you.
This post was written for the Insecure Writer's Support Group. We post on the first Wednesday of every month. To join us, or learn more about the group, click HERE.