Insecure Writers Want to Know
Have I ever participated in NaNoWriMo? Um…no. I have so many daily demands and pressures, I don't need another one.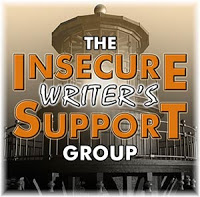 So that's the easy answer. I write every day. Okay…almost every day. I'm a short story and essay writer who only has one book-length manuscript in the works, my college memoir. I'm on final edits as we speak.
Oh, I have lots of ideas, but I'm trying to put together a short story collection for middle grade. In fact, I'm trying to put together several collections of MG stories. Different topics. Different themes. Then I need to figure out how to sell them or publish them and then how to market them. I facilitate writing events in libraries. I need to create those programs. Then there's social media.
In other words, it feels like I'm always working. How do you, fellow IWSG writers, find time to create, publicize, and market your own novels? How do you keep up with social media? You all truly amaze me. I would love some tips. I learn so much from you.
My last in-person Workshop Event this year will be at the Maple Shade Library in New Jersey. If you are in the area, please stop by. I'd love to meet you. This is a free writing event for participants.
Here are the details:
Thursday, November 10, 2022, at 2 p.m.
"Backstory in Fiction and Non-Fiction"
Maple Shade Library
200 Stiles Ave.
Maple Shade, New Jersey 08052
(856) 779-9767, ext. 311
Please register for the event at the Burlington County Library System.  
Now I'm off to see how you've tackled this month's question. It's wonderful having a topic to share our thoughts on each month. I am extremely thankful for all of you for being my sounding board and advisors on this writing and publishing journey.
Thanks for stopping by my little spot on the web. Please come again!
This post was written for the Insecure Writer's Support Group. I'd like to thank our co-hosts for November: Diedre Knight, Douglas Thomas Greening, Nick Wilford and Diane Burton. Please visit them if you can.
Our group posts on the first Wednesday of every month. To join us, or learn more about the group, click HERE.