Insecure Writers Want to Know
Happy New Year, fellow writers! I hope your holidays were filled with treasured memories. May you have a healthy and successful 2022!
What do I regret most in my writing career? You mean besides that I'm not rich and famous and have millions of followers who truly care what I do each day? You mean besides that I haven't won the Pulitzer in memoir or fiction?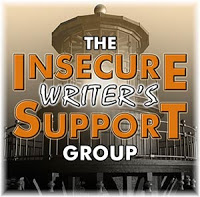 Gosh! I don't know what I regret most in writing. That I didn't learn fast enough how to create fully fleshed out stories that others want to read? That I wasn't exposed to the college setting until after I had five kids? That I didn't have a mentor early in life to guide me through finding my voice in writing?
Nope! Like many writers, I had to learn the hard way—trial and error. Heavy on the error side. With limited funds and no free writing advice like we have here with Insecure Writers Support Group.
Understanding your past is key to living in the present. You can't change the past. It has shaped you into the person you are today. You shouldn't worry about how long it has taken you to get where you are in your writing journey. I try to make myself believe this. Live this. Severe regret can be ugly. I don't wish to live with such ugliness. How about you?
*Please feel free to offer any insight you may have on regret. It would be truly appreciated.*
It will be interesting to see how you've tackled this month's question. It's wonderful having a topic to share our thoughts on each month. I am extremely thankful for all of you for being my sounding board and advisors in this writing and publishing journey.
Thanks for stopping by my little spot on the web. Please come again!
This post was written for the Insecure Writer's Support Group. I'd like to thank our co-hosts for January: Erika Beebe, Olga Godim, Sandra Cox, Sarah Foster, and Chemist Ken! Please visit them if you can.
Our group posts on the first Wednesday of every month. To join us, or learn more about the group, click HERE.