Knoebel's Amusement Resort is nestled in the Susquehanna River Valley of Pennsylvania. Surrounded by woods and mountains. Knoebel's large campground is connected to the park, with many sites and cabins available. South Branch Roaring Creek skirts one side of the park, a quiet trickle. Now. But the park has suffered a few floods in its 96 years of existence. I believe the last flood was in 2011.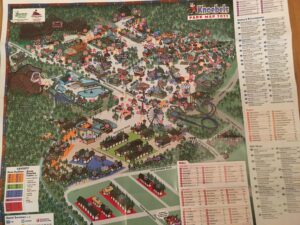 But what's great about this amusement park is that it is free to park and get in. It has free covered picnic grounds for groups. We went with our church parish. You only pay for the rides you wish to go on. This park bills itself as: "America's Largest Free Admission Amusement Park!"
For us, this is perfect. We don't ride many amusement rides any more. Okay. I don't ride many amusement park rides. I never did. This was why it was difficult to bring our five children to amusement parks. The entrance fee—regardless if you rode the rides. Our children love rides. They still do.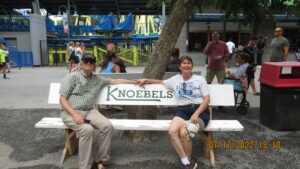 Knoebel's is a family owned and operated park. Yes. We did go on rides. I always loved the Ferris Wheel. I enjoy getting above the trees to gaze at the whole park and surrounding area. And my husband graciously accompanied me since our kids weren't available. Well…actually, he went with me to stop all my crying about having to go alone.
Now my husband wanted to ride the award-winning roller coaster at the park. The Phoenix, with all its twists and turns and mighty high drops and upside downs.
"C'mon, Vic," he cajoled. "It'll be fun!"
"Now dear," I said. [Yes, I did call him dear.] "You don't want to wear my delicious barbequed chicken lunch, do you?"
"Um…" He looked down at his light-colored khakis and pale green shirt.
"Don't you like my bones where they are?" I asked. "You know, all connected?"
"I guess you're right," he finally agreed. "I'll have more room on the coaster bench."
Right, I thought. And you won't have fingernail marks embedded in your arm either.
Afterwards, we moseyed around the cool, wooded park, arm-in-arm. Just two adults out for a stroll in the shade. Our heads filled with the music and screams coming from the rides. But then I found the carousel.
My poor husband. It's not my fault the kids couldn't come with us. They have their own lives now.
I started bouncing up and down.
"I simply must go on the merry-go-round. But only if I can have a horse that goes up and down. I don't like the stationary ones."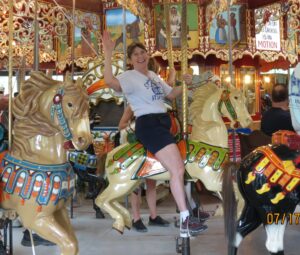 He knew. We've been married for 41 years. He peered around for any fellow parishioners. Searched the crowds for Father Rich.
"I'll sit this one out, Vic," he said, handing over a few tickets.
"Fine!" I raced up onto the carousel, seizing my up-and-down horse, smile as wide as the merry-go-round.
Yes! There were other adults on the ride. True. Most of them were with little children. But I couldn't help myself. The carousel brings out the little kid in me.
We did go on the aerial ride together. It's like a ski lift. Up the side of a mountain and back down the mountain. A perfect, gentle, peaceful ride to end our adventure at Knoebel's Park.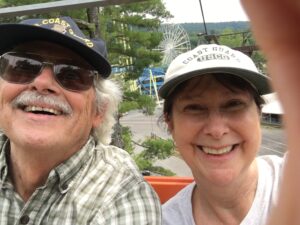 Thanks so much for reading Camping with Five Kids. Please stop by again! Till then, enjoy life's adventures.