The eagles have come to nest again by the Brodhead Creek in East Stroudsburg, Pennsylvania. When our neighbor told us this news, we became excited. Sunshine filled a powder blue sky. Trees no longer swayed in the wind. The snow stood stiff on the ground. A perfect, calm day to see eagles.
Our daughter was visiting with her boys; a two-year-old and a one-month-old. Her two-year-old got excited to see the "big birdie." So off we went to the Brodhead Creek Heritage Center at 1539 Cherry Lane Road in East Stroudsburg, a truly fascinating place to explore.
Our two-year-old grandson had seen smaller bird nests in smaller trees on our walks in his neighborhood. But I wanted him to understand that this would be different. So on the short drive to the heritage center, I tried to explain to him that big birdies live way up high in trees.
He said: "uh-huh."
"We need to use binoculars to see the birds." I showed him the binoculars.
He said: "uh-huh."
"Big birds need big sticks to make a big nest in the tops of tall trees."
He said: "uh-huh."
There! I felt competent that my philosophical conversation with my grandson was understood.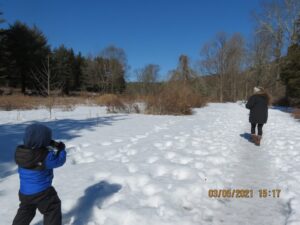 I looped them under his hood.
We needed to walk down the path a bit to be able to see the tree with the nest in it. My husband and daughter, with the little one tucked in an infant carrier, started down the path.
I tried to follow, but our grandson wanted to hold the binoculars. Fine. I gave him the binoculars. They dangled to his knees and made him pitch forward because of the weight.
"I'll carry them and you can…"
"No, no, no!" He screamed.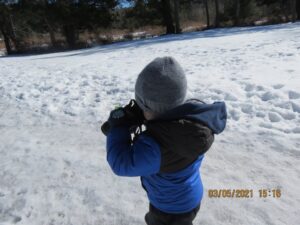 Hard to walk this way!
Nearby water birds took flight from the pond.
"Okay, okay, hold them up."
He did.
"Higher."
He decided to look through them while he walked.

He couldn't stay on the path. My job was to get him to the open field to look up into the pine trees to see the nest.
Have you ever tried to get something from a two-year-old? It's impossible, especially when the thing is looped under his hood!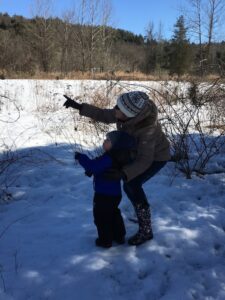 The nest is in that tree!
I shouldn't have thrown out the binoculars that didn't quite line up any more from my own son's adventures.
We finally had to take the binoculars from our poor grandson so we could see the nest. Tears nearly froze to his little cheeks.
We adults looked quickly through the binoculars. Saw that no one appeared to be home in the big nest, it was early afternoon, and returned the binoculars to our grandson, who seemed to be hyperventilating.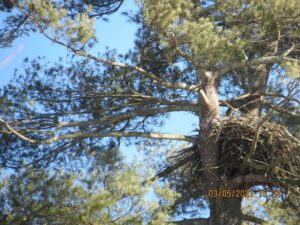 The nest seems empty.
Immediately, his breathing returned to normal. I dried his face. He looked through the binoculars as he walked on a little farther. Then he got tired of them and handed them to me.
The tip for this post? Bring a second pair of binoculars if you want to see something in peace. We just purchased a smaller pair that won't tip over our grandchildren.
Thanks for reading here at Camping with Five Kids! Please share some fun things that you and your family do in nature. Let's hope this spring the quarantine will end and all our state and national parks will open with no restrictions for the enjoyment of the whole family. All best to you!