Happy New Year! Let's hope 2021 will be a healthier, happier year for everyone!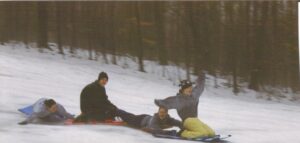 Group sledding downhill!
I've told you before how my family loves snow. What? Don't you like snow too? Aside from the shoveling and driving experiences, I mean. Children love snow and can find so much to do in it. In addition to snowball fights and building snowmen, there are sledding and even skiing. And then there is ice skating or sliding on frozen lakes or ponds. Always make sure the lake or pond is completely frozen and that the temperatures have remained below freezing for a long period of time before venturing out on any ice. Move slowly to test the ice for solidity. Check for cracks on the ice surface and stay as close to shoreline as you can.
And always make sure you know where your children are going and what they are planning to do.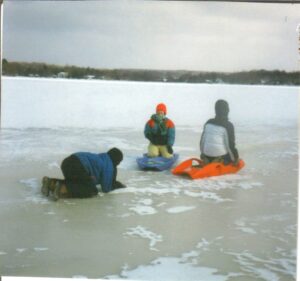 Ice skating with sleds!
On a lighter note, have you ever considered hiking in the snow with the family? We've hiked in the wintertime, most recently the snow-covered mountainside of Hickory Run State Park in Pennsylvania, with ice coating the tree branches and icicles clinging to waterfalls. While ranger programs have been cancelled due to Covid, empty trails are still available for family hiking.
Just like checking the ice for solidity, you need to check banks of snow, especially along streambeds, for solidity before hiking over them. The ground is usually warmer than the air. If the temperatures have been above freezing during the day yet below freezing at sunset, there may be water running along the trail bed under a crustier top coat of snow or ice. Never hike alone in winter. The chance of hypothermia is real if you become wedged in a snow bank and caught till dark. Cell phone charges don't last long in the cold or freezing weather, and some parks or mountains have dead zones with no reception. This is why you need to tell others where you plan to hike and for how long.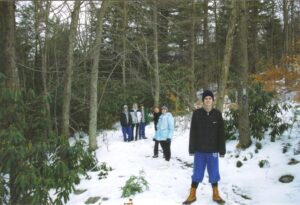 On the trail in snow!
Keeping feet dry and hands warm are a must when hiking in winter. Snow/ski pants, thick socks, and waterproof boots are not just for skiing or snowball fights. Dress in layers of clothing and wear a hat when you hike in the cold. We lose most of our heat through exposed heads. Gloves are a must, too. Slender extremities like fingers and toes are quick to freeze in low temperatures, not just when you're making snowballs.
With a few precautions to stay safe and warm, outdoor winter activities can be a lot of fun.
Thanks for reading here at Camping with Five Kids! Please share some fun things you do in the snow or in nature with the family during wintertime. Be safe in 2021. Let's hope the quarantine will end this year. All best to you!