The troops putting up the Jayco Eagle pop-up.
Notice how happy they are?  
Our oldest
wears the smile.  It was her turn to crank.
If it is, remember that a lot of used gear can be had on local Craig's Lists by just typing in your location and then "camping" in for sale.  This is a great idea for used large items, like campers, trailers, tents, or stoves that you want to inspect personally.  It's best not to buy used personal items such as sleeping bags, bed rolls, or climate clothing.  They are always better bought new.  However, the internet does hold a wealth of equipment and information, to which I am about to add my small share from personal experience.
At the time we bought our Jayco Eagle pop-up trailer, it was new, a leftover from the year before.  Our Eagle is a hard-top, manual crank-up camper that you're supposed to turn slowly, and pause to pull out the beds on the ends of the trailer little by little.
Patience.  The five children needed to learn patience and how to work together.  They needed to crank slowly and not fight over whose turn it was to crank, for which I kept a schedule.  See "Keeping the Peace with Schedules."  The non-crankers yanked out—carefully, another learned concept—the two end beds and jammed in the support poles underneath. 
The two dinette tables had to be set up.  They convert into beds, which helps when you have five children.  There is no bathroom or shower in it.  We use a small camp potty when absolutely necessary—another thing to buy new although potties are usually plastic and completely washable.
While researching for this blog post, I came across a wonderful website for campers and outdoor enthusiasts.  Everything Outdoor Camping is a highly useful site where you can not only purchase what you need for camping and hiking, new, but also engage in conversation with an expert about the equipment or the camp trip you are going to take.         
Please remember that you needn't purchase thousands of dollars worth of camping equipment before venturing out upon a family camping excursion.
We started out with a 1960's patched up canvas tent on a trailer.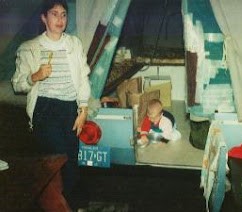 Besides, amenities abound at many campgrounds.
KOA Kampgrounds
offer basic to deluxe wood cabins, all with electricity and some with full kitchens.  KOA's are located just about everywhere and all you need do is bring bedding, food, and cooking and serving utensils. 
Start with basic equipment, nothing fancy, no extras.  
Go on nearby camping trips for a short amount of time.
Campers can be rented for the weekend or for a week at
Cruise America
or another RV rental place.  Read the rental contract; calculate the insurance expense and breakdown insurance.  Always get the rental insurance, whether you are renting a car or a camper.  Practice handling the rig as it will most likely be larger than your vehicle and definitely handles differently. 
            Camping is the perfect way to see the world, be it close by or at opposite corners of the country or adjoining countries.  
Steve Trommer, an award-winning seasoned Boy Scout Leader and Owner of Everything Outdoor Camping, says that "Any time spent in a tent, opens the world to bigger adventures."
And he's right.
In our little home away from home, in our blankets and bedding, pots, pans, and potty, we explore the world one camping trip—and family adventure—at a time.  Maybe you should try it, too.
Merry Christmas, everyone!